Following recent guidance from the national Methodist Church on Tuesday 17 March, we have taken the decision to suspend all services and fellowship activities at St. John's, Settle, for the time being. We hope that we might be able to open the church on Sunday mornings and at times during the week for personal prayer and reflection, but there will be no organised collective worship. (Look out for details of this) See St John's Facebook Page - for the latest news, especially with respect to coronavirus. (which may be more up to date than this website).
Also see the Coronavirus page of the Settle Methodist Circuit Website for lates news
Note: Settle as a whole has a Community Response number to phone - 01729 825493 and website : settlevictoriahall.org.uk/communityresponse if you need help, or want to offer help, or have enquiries. Individual Villages (e.g. Langcliffe) also have their response teams that Settle will be able to tell you about.
Please read the message from the Minister here, and a prayer here - click on each for larger images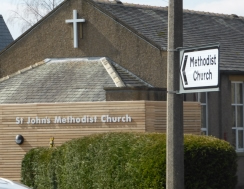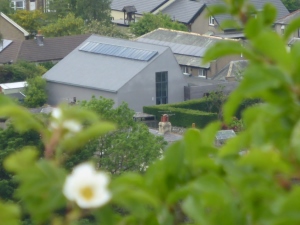 View of church from Castleberg on 4 June 2018: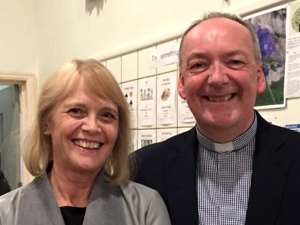 Revd Tim and Pam Broughton at the welcome service: Th 6 Sept 2018-
For more on history of Settle Methodist Church see post on Settle Historic Churches Tour here on 8 March 2018
Another such tour is likely to be held on 21 July 2020
Click for April 2019 pictures of Settle Good Friday Passion Play and Sunday dawn Service
If you miss a Sunday morning and still want to join in with our worship then all of our services are now available online. You can listen from any internet enabled device, by going to https://soundcloud.com/settlemethodist
You may have to copy and paste
https://soundcloud.com/settlemethodist
into your browser
.  Alternatively, using the Soundcloud app for your smartphone (free), services can then be downloaded and listened to when Offline
We also have a facebook page: search for @settlemethodist or Settle Methodist Church.
and Twitter: @MethodistSettle
Messy Church: Interested? 01729 825285.
We held a great Eco-Explorers Indoors on 17 Nov: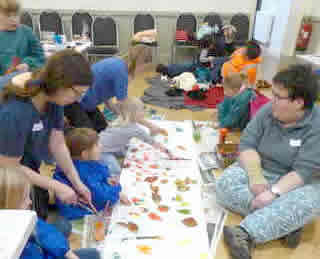 St John's
Methodist
Church:
See St John's
Facebook Page - for the latest news, especially with respect to coronavirus.
(go to Facebook and search for Settle Methodist Church
Settle, N Yorks
BD24 9JH
(Note the church building will be probably open for prayer but not a formal service this Sunday 29 March)
Occasional evening services.
Every Tuesday: Morning Coffee 10am-12pm in the NEW church foyer.
Coffee Mornings now take place by Zoom: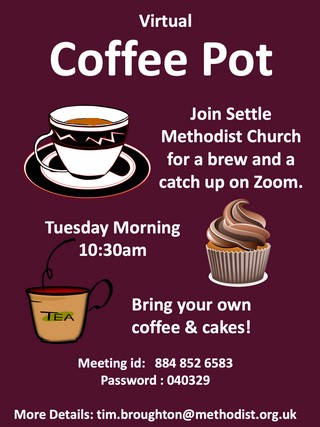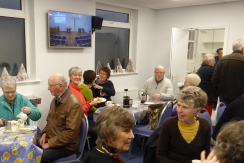 Coffee every Tuesday but, The 1st Tue of the month is a special charity coffee morning:
Tuesday 5 Nov: in aid of Rainforest Fund raised £170. Thank you
Tue 7 Jan raised £130 for Prostate Cancer Charity. Thank you
Tue 4 Feb raised £202 for NSPCC. thank you.
Tue 3 March raised abou £97 for Gt Ormand St Hospital
in March have been cancelled until further notice
At St John's, Settle:-
We'll see what happens with the below nearer the time.
Date for your diary:
Our annual Churches Together Barn Dance has been booked for
Friday 29th May, 7 – 10.30pm
at St Mary & St Michael Parish Hall, Tilman Close, Settle
This year we have The Batty Moss Ceilidh Band playing for us [Kevin McSherry's band].
Hustings organised by Churches Together were held at St John's