Greetings to all vaccination-visitors, and to all people who use the church hall
Spare slots exist for use of the hall, including Mondays and Fridays: They won't stay spare for long.
Vaccination Visitors:- This week the National Health finished the vaccinations here - There is now enough capacity at Settle Surgey and Ingleton - A huge thank you to all the volunteers here over the months. Read more..
Dementia Forward (A North Yorkshire charity) group is a new group using the hall on Tuesday afternoons "Time Together Tuesday", a well-being café 2.00 p.m. and 3.30 p.m. Volunteers welcome. Watch the talk here -
On 5 Sept we held our Climate Sunday Service
- The St John's Eco-group then led similar services at Ingleton and Hellifield on 12th Sept.
After the Settle Service, Judith took the train to Glasgow to attend the Nations' Climate Service at Glasgow Cathedral organised by CTBI ahead of GOP26. Read about the journey and service here
We now have a jar at the back of the church and at you are invited to fill in an "ECOmmitt" slip each week (anonymous) showing one small action (however tiny) you have undertaken this week or propose to take next week.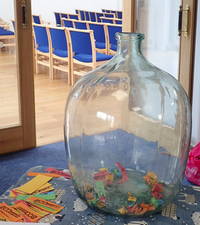 --------------------------------
Read on for details of Services by Facebook, Circuit Zoom Prayer meeting on the 8th of each month, Zoom Coffee mornings.. and more..
Online services, led by Tim Broughton, posted on our Facebook page at 10.30 or 11 am a.m. every Sunday. These services have contributions from members of Ingleton and Settle congregations and others. Posted on YouTube later in the day.
Short services of Evening Prayer, led by Rev. Stephen Caddy and Christine Caddy will also be posted on Facebook at 6.30 p.m. every Sunday.
We are now (since July) meeting in church at 10.30 a.m. every Sunday, but we would like to continue to meet in as safe a way as possible. To that end we continue to recommend that we should observe social distancing, as we have over the past few weeks, and we also recommend the continued wearing of masks. We are now allowing the congregational singing of hymns, but in order to help everyone feel safe we would prefer this to be done with masks on. The service will also be relayed into the coffee lounge for anyone who would prefer to sit slightly outside the main church (with or without a mask) but still participate in the service. For those of you who do not yet feel ready to come to church, online services (morning and evening) will continue on our Facebook page and on YouTube.
Phone: +44 131 460 1196 (ask Tim Broughton if you have problems)
1st Day of the month: Walk and Prayers for the Ecological and Climate Emergency organised by Churches Together in Settle and District.
- Next Walk -Mon 1 Nov will be to The Wash dubs near Austwick- starting at 12.pm at the bottom of townhead Lane, near the school. Bring Packed Lunch. The walk will last 1 and a half hours.
But please let us webeditor@ctisad.org.uk know 01729 822138 that you intend to come. It may be possible to coordinate transport from Settle.
- On 1 July we went for a walk on a nature resreve in Ribblesdale. On 1 Aug we joined the congregation of St Oswald's Horton for their annual St Oswald's Day walk (pics below)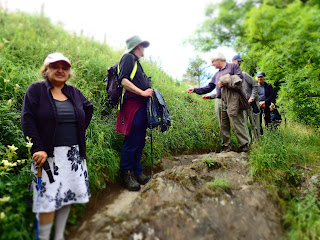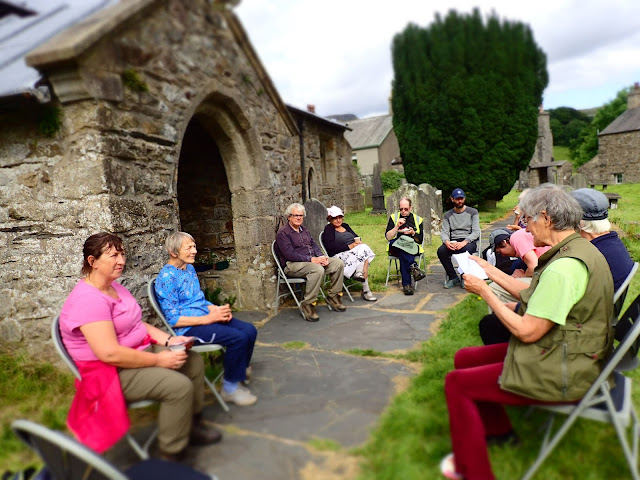 Blessing by our sister church in Ingleton
If you miss a Sunday morning and still want to join in with our worship then all of our services are now available online. https://soundcloud.com/settlemethodist
You may have to copy and paste https://soundcloud.com/settlemethodist.  Alternatively, using the Soundcloud app for your smartphone (free), services can then be downloaded and listened to when Offline
and Twitter: @MethodistSettle
Messy Church: Interested? 01729 825285.
St John's
Methodist
Church:
See Settle Methodist Church
Facebook Page - for the latest news, especially with respect to coronavirus.
EVERY SUNDAY:
3 Oct: Preacher Jane Mansergh -
11am - Live Service on Facebook with Ingleton Church to be stored on Youtube every Sunday
6.30 pm Facebook Evening prayers (Zoom/Facebook)
VISIT: St John's Facebook Page
Last updated: 17 Oct 2021
On the fifth Sunday of the month we have a church meal - all welcome. On 26 Sept Rev Setphen Caddy showed us his new "Prayer and Worship in the Farming Year" book he has just published.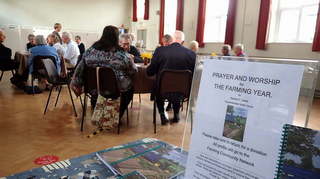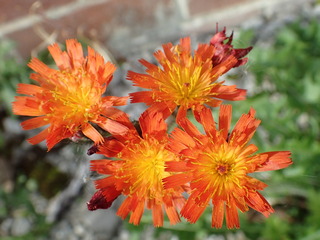 Fox and cubs- wildflower beside the church in Sept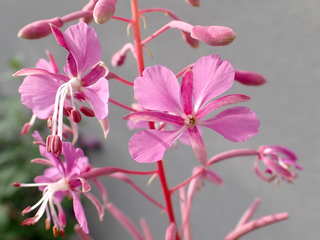 Rosebay willowheb - wild flower beside the church in Sept
See pictures of wildflowers (weeds) round our church in July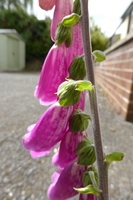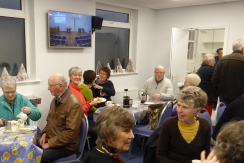 Physical Coffee Mornings - starting Wed 20 Oct
Settle Methodist Church history incuded in Settle Historic Churches Tour in 2018
View of Church from the road